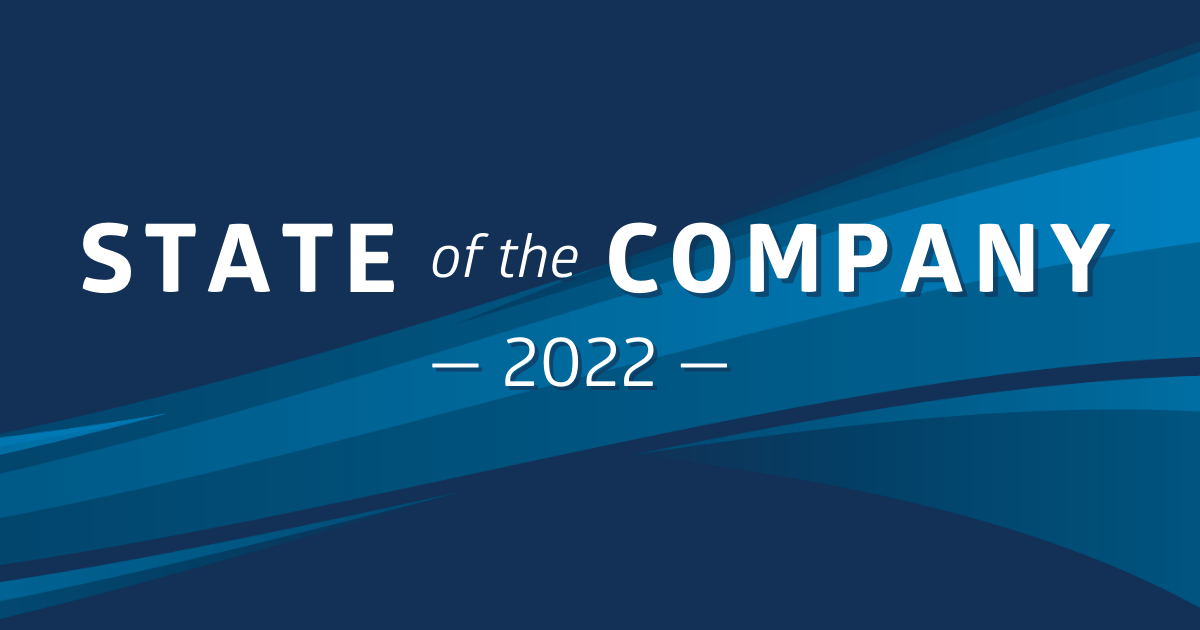 2022 is off to an exciting, fast-paced start for Southern Bancorp with new additions to our leadership team, growth in new and existing markets, and an acquisition already announced. But before we get too far into 2022, we'd like to take a moment to reflect back on a year of record-setting milestones and transformational impact. Southern Bancorp is well positioned for the opportunities that lie ahead.
Financial Services in our CDFI Target Market (Our Mission)
As a certified Community Development Financial Institution (CDFI), Southern Bancorp's primary role is to provide financial products and services in a designated Target Market[1]. To be certified as a CDFI, at least sixty percent (60%) of our financing activities must take place in our target market. This is why we define our mission as creating economic opportunity in rural and underserved communities by providing responsible and responsive financial products and services that balance profits and purpose.
We are proud to report that in 2021, we made 8,157 total loans, and 96% by number and 86% by dollar were in our target market. Additionally, 3,187 or 38.96% of our total loans by number were in persistent poor counties[2].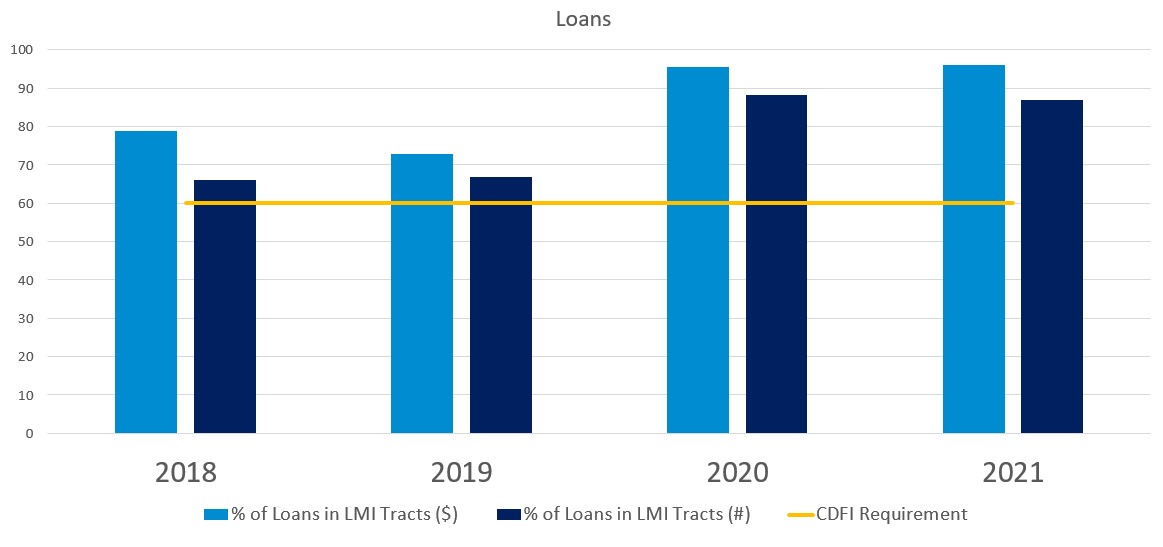 [1] The CDFI Fund defines a Target Market as one or more "investment areas" and/or "targeted populations." An
investment area
is a geographic area (such as a census tract or county) that meets at least one of the following criteria:
Has a population poverty rate of at least 20 percent;
Has an unemployment rate 1.5 times the national average;
For a metropolitan area has a median family income (MFI) at or below 80 percent of the greater of either the metropolitan or national metropolitan MFI;
For a non-metropolitan area that has an MFI at or below 80 percent of the greater of either the statewide or national non-metropolitan MFI;
Is wholly located within an Empowerment Zone or Enterprise Community; or
Has a county population loss greater than or equal to 10 percent between the two most recent census periods for Metro areas or five percent over last five years for Non-Metro areas.
Targeted populations may include Low-Income populations (defined based on income) or an identifiable group of individuals in the CDFI's service area for which there exists a strong basis in evidence that the group lacks access to loans, equity investments, and/or financial services.
[2] To qualify as a persistent poor county, 20% or more of its population has lived in poverty over 30 years.
Balancing Profits and Purpose
For years, banks have abandoned rural and low wealth urban communities, opting for more densely populated and affluent markets where there are greater opportunities for profitability. In six of our markets we are one of only two banks in town, and in seven of our markets we are the only bank in the community. If we were not there, customers would have few, if any options, for responsible and responsive financial services. Not only are we serving communities that need us, we're doing it successfully.
We are proud to report that 2021 was the most profitable year in our bank's history. Our net income target at SBI (Southern Bancorp, Inc. – our holding company) for 2021 was $10.25 million, which we surpassed by more than $3.5 million, reaching $14.03 million in net-income.
What is even more impressive about our financial results is that our team has produced sustained, steady financial success over the past several years. The graph below demonstrates this point, with each year's net income from 2018-2021 setting a new company record.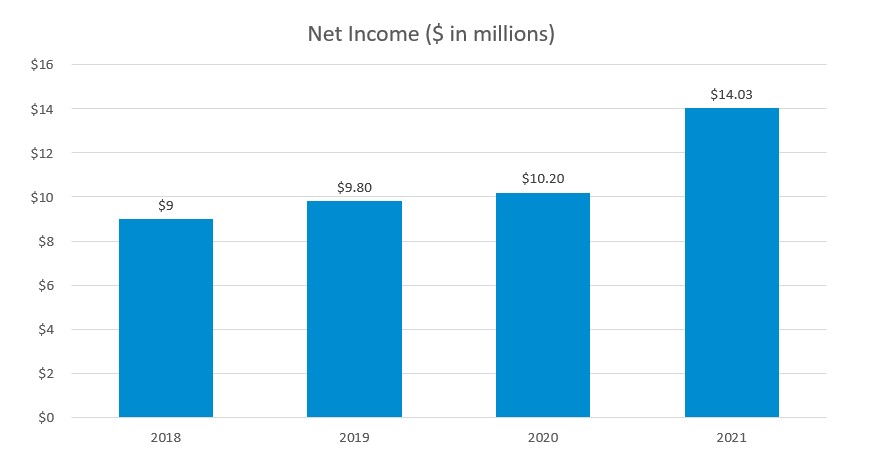 Investing in our Team
We have a mantra within Southern Bancorp that reads, "no margin, no mission." For us, the two go hand-in-hand; our margin fuels our mission, which is our guiding star.
As our margin and mission have grown, so has the value of our company stock. With 96% of our eligible employees being shareholders, we are helping build wealth internally as well as externally as we grow our organization.
In 2017, we embarked upon our equity capital campaign, in which we sold shares for $8.40 per share. Our most recent share sale was executed at $14.50 per share, which is a 73% increase in our share value over the past 5 years.
We're also helping employees build wealth through our Employee Homeownership Program, which offers a 1% home loan to Southern Bancorp employees.
2021 Snapshot
2021 was a year of record setting milestones, and below are just a few of those highlights
$2.059 billion in total assets

, a company record.

$1.247 billion in total loans

, also a record.
Southern Bancorp Community Partners raised a record-setting $5.4 million, which will allow it to provide flexible loans and development services to thousands of customers.
Arkansas County Bank was acquired, adding $185 million in assets, 3 new branch locations and 34 new team members.
TeamWALT, Southern's digital innovation team, increased in size to 6 employees in 2021. Additionally, they launched the S61 side core technology platform and with it created our first banking app, Wealthable, with over 1,000 users onboarded. Our second app, a savings-focused game, also made it into the beta testing phase and will be launched publicly in 2022.
The Southern Team performed 8,721 community volunteer hours, with 6,952 of those being CRA eligible.
Through our customer survey, we received a Net Promoter Score of 69.3%, putting us in great standing for our industry.
Our Volunteer Income Tax Assistance (VITA) volunteers completed 3,800 tax returns for low income individuals, equaling more than $7.6 million in refunds going back to our local markets, $2.5 million of which were for recipients of the Earned Income Tax Credit.
We originated 1,330 PPP loans in 2021 totaling $46 million and supporting 6,384 jobs. That brought our total for the program (2020-2021) to 2,696 loans originated totaling $161 million and supporting 22,098 jobs.
And speaking of PPP, our SBA team received some much deserved recognition, being selected as the 2021 SBA Lender of the Year for Arkansas.
The media took notice of Southern's work in 2021, with 68 articles featuring our work.
Our NMTC team leveraged $31 million of our NMTC allocation into $124 million in investments into 7 businesses that ultimately created 180 jobs, retained 167 jobs and served 1,060 low income people.
Our Financial Development team spent over 800 hours working with more than 200 clients, of which 75% were African American and primarily low- to moderate-income (LMI).
Our public policy department continued to play a leadership role for our mission by advocating on behalf of LMI families for tax relief in the form of asset limit reform. Additionally, we prepared a study of HUD-certified housing counseling accessibility and impact as well as continued our information campaign around our successful "Add-A-Line" legislation that gives all AR and MS taxpayers the ability to split their refund and save at tax time.
We also received an unprecedented amount of funding from CDFI Fund program awards:

Rapid Response Program:

SBCP – $1.5 million
SBI –

$1.8 million

NMTC Program: $50 million
The Emergency Capital Investment Program (ECIP)
As successful as 2021 was, we are even more excited about what thefuture holds. In December of 2021, the U.S. Department of Treasury notified us that we are eligible to receive $237.5 million under the Emergency Capital Investment Program (ECIP).
The ECIP was established by Congress in recognition of the fact that COVID-19 has and will continue to have a disproportionate, negative impact on certain people and communities. This program will provide equity investments in CDFIs and Minority Depository Institutions (MDIs), so that in return, we can help people and communities recover from the effects of COVID-19.
Specifically, we are permitted to use these investments to among other things, "provide loans, grants, and forbearance for small businesses, minority-owned businesses, and consumers, especially in low income and underserved communities, including Persistent Poverty Counties, that may be disproportionately impacted by the economic effects of the COVID-19 pandemic."
The application process for the ECIP was extremely competitive. Two hundred and four financial institutions requested over $12.88 billion dollars under this program, though it only had $8.75 billion to allocate. The maximum amount a CDFI or MDI could receive was $250,000,000. Applicants were required to submit plans on how they would use the equity investments in ways that were consistent with the program's purposes, and applicants were required to discuss their past performance in serving underserved people and places.
As a result of our strong track record and future plans, we were awarded $237.5 million or 95% of our requested amount.

2022 and Beyond
Never before have we (or the CDFI industry) had an opportunity to access this much growth capital. This is truly a transformational opportunity for the CDFI industry in general and for Southern Bancorp specifically. We will use this capital to maximize our wealth building impact for underserved communities and people by expanding our geographic footprint across the region, our digital reach across America, and our mission-focus around the world.