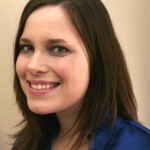 Little Rock, AR, Jan. 25, 2013 –Lauren Isbell has joined the staff of Southern Bancorp Community Partners in Mississippi County as community development officer. She will be responsible for supporting and promoting community development initiatives in the areas of health, education, housing, leadership, economic development and other priorities.
Lauren comes to SBCP from East Arkansas Area Agency on Aging, where she was director of Senior Corp programs under the leadership of Corporation for National and Community Service, providing volunteer management services for a 12-county region of northeast Arkansas.
She has a bachelor's degree in social work and is working toward a master's degree in public administration, both from Arkansas State University in Jonesboro.
"Lauren's experience and skills in non-profit development and management and her ability to form and maintain solid professional relationships with representatives of area organizations will be valuable in our mission of building communities and changing lives in Mississippi County," says Tanya Wright, group president of Southern Bancorp and chief executive officer of Southern Bancorp Community Partners.
"The strategic planning effort supported by Southern Bancorp Community Partners has the potential to be an avenue of impact for Mississippi County, where people, purpose, principles and planning intersect for positive change," Lauren says. "Together we can engage community members in programs that can shape the lives of countless others and bring us a better tomorrow."
Lauren's husband, Tyler Isbell, is an algebra teacher at Blytheville High School. Last year Lauren, Tyler, and their daughters Deven, 4, and Trinity, 3, relocated from Jonesboro to Mississippi County.
The mission of Southern Bancorp Community Partners is to transform rural Southern communities by creating new educational and economic opportunities for people with limited resources. Southern seeks to accomplish its goals of increasing educational attainment, decreasing unemployment, and reducing poverty through comprehensive community development, human development, financial services, and public policy change. For more information visit www.southernpartners.org