Southern Good Faith Fund, a nonprofit that has helped businesses and families in Pine Bluff since 1988, moved this week from 2304 W. 29th Ave. to the Donald W. Reynolds Community Services Center, 211 W. Third Ave.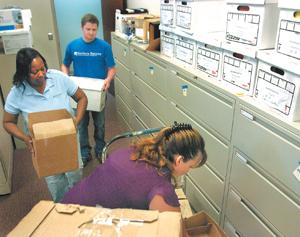 Kim Jones Sneed, director of Southern Good Faith Fund's Business Development Center, said Wednesday staffers were "in the midst of a major move."
"We have many boxes to unpack," Sneed said.
The Business Development Center offers various services to help entrepreneurs launch new businesses and business owners expand.
Ramona McKinney, director of the Asset Builders program, said the nonprofit has operated in Pine Bluff since 1988 and had been at the West 29th office since 1997.
"We just felt like it would be a better fit for our programs to have the opportunity to be housed at the Reynolds center with other nonprofit agencies," McKinney said, adding that it is a more visible location.
Asset Builders
Asset Builders' Individual Development Account is a matched savings program to help qualified participants pay for home ownership or repair, post-secondary education or to support a small business. Once a participant saves $667, Southern Good Faith Fund matches the savings $3 for every $1 up to $2,000.
McKinney said an information session will be held at 6 p.m. Sept. 1.
The Volunteer Income Tax Assistance program has been in place for two years and offers free tax preparation for low-income families. McKinney said volunteers filed more than 3,000 returns last year.
"We are always looking for volunteers," she said. "I never thought I could do something like that but it's not that difficult because you're trained. And it's very rewarding."
Power to Care
The Power to Care is a grant program funded by Entergy Arkansas and administered by Southern Good Faith Fund. It offers once-a-year assistance on electric bills for the elderly and disabled living on fixed incomes.
Program coordinator Rosalie Tripp said those who qualify can receive up to $200. There are no funds currently available.
This is the office's third year to administer the program, formerly called Project Deserve. Last year about 3,200 families received assistance, Tripp said. Since January 2007 more than $1 million in assistance has been distributed.
"We are funded totally by donated dollars," Tripp said.
She added that Power to Care helps supplement the federal Low Income Home Energy Assistance Program when funding for it has been depleted.
Details: Call 535-6233.