Rendezvous 2022
RSVP Form and FAQs
It's time to register for Rendezvous 2022!
Rendezvous is Southern Bancorp's company-wide celebration (think fun…not policies, procedures, and training). We'll come together on Sunday, October 9th and Monday, October 10th (Columbus Day holiday- remember, you'll get a floating holiday to make up for it) for a day and a half of fun, food, and fellowship that is sure to leave you excited about our future!
This year's event will be in Little Rock, Ark. On Sunday evening, after everyone has arrived and checked into hotels, we're throwing a big party with food, fun, and dancing to start the event off right!
Monday morning, we'll come together for a day filled with fun and learning about Southern's past, present, and future. Everyone is sure to come away excited about Southern's direction and the role we'll all play in its success!
Please complete the registration form below ASAP so that we can begin the process of planning for transportation and lodging. Remember, attendance is required for this event (but we promise you'll have fun), so if you think you'll be unable to attend, please contact your supervisor ASAP so we can plan accordingly.
 All employees are required to RSVP.
Registration Deadline: Monday, May 16, 2022.
Let's Get Started!
FAQs
Click on the + icons to expand each FAQ. If you have additional questions, feel free to ask your branch manager or email them to southern@banksouthern.com.
General Questions
Why are we having this meeting? What is its purpose?
This is a celebration of Southern Bancorp, our mission, our culture, and our team! It's an opportunity for us all to come together for a good time, to build friendships, learn more about our organization, and celebrate our company's bright future.
Think FUN, not policies and procedures!
Will I get paid for my time on Sunday? What about Monday, it's a bank holiday – will I get another holiday?
Sunday evening, October 9th is designed to celebrate the amazing staff at Southern Bancorp and our collective accomplishments as an organization with food, prizes, music, and fun!  Much like after-hours holiday parties, participation in the events on Sunday evening is not required and not considered compensable time.
Columbus Day 2022, Monday October 10th, is a designated work day for all staff at Southern Bancorp. Employees who are otherwise eligible to receive holiday pay will receive a "floating" holiday in exchange for working on Columbus Day 2022.
The floating holiday will function like vacation pay in that the paid time off can be taken at your discretion as long as it is approved in advance by your supervisor. However, unlike vacation pay that must be used in the year awarded, the floating holiday will not expire on December 31, 2022.  Employees who have been awarded the floating holiday will have from October 11, 2022 through December 31, 2023 to use it. This time is not paid out upon termination.
In addition, employees who participate in the meeting on Monday will be paid as follows:
Exempt (salaried) staff will receive their normal scheduled pay.
Non-exempt (hourly) staff will receive pay for hours worked, just as they would on a normal work day.
In addition, non-exempt (hourly) staff will be paid for travel time to and from the conference, in accordance with the business travel policy, regardless of which day the travel occurs (Sunday or Monday).
What if I am part time?
Part-time, non-exempt staff will be paid for hours worked plus travel time as outlined in question #2 above. As part-time employees are not eligible for holiday pay, the floating holiday is not applicable.  Please work with your supervisor to determine if you will work your usual schedule for the rest of the week or if business needs allow days off to be switched during that week.
Where will the meeting be held?
Little Rock, Arkansas
Sunday evening event: Robinson Center Conference Center
Monday event: Doubletree Hotel Grand Ballroom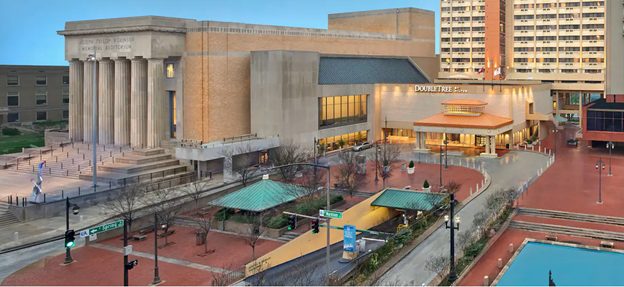 How long will the whole trip last?
Check in for the hotel begins at 4 pm on Sunday.
The evening event on Sunday, October 9th is optional party, but trust us, you won't want to miss this!
On Monday, October 10th, Rendezvous ends at 3:00 pm, which gives plenty of time for staff to travel back to their homes by the end of the day.
If you are taking the Southern sponsored transportation, you will be picked up on Sunday, and arrive home Monday night.
Do I need to bring money or credit card to pay for anything?
Your meals and lodging will be paid for.  You may want to bring a small amount for incidentals.
Do I have to attend?
While the meeting is mandatory and considered a work day, our leadership understands individuals may not be able to attend because of previously made plans or other extenuating circumstances.
Your presence is important to us, so we would like to work with you to see if we can overcome any and all barriers that would prevent you from coming to Southern Rendezvous. If you have extenuating circumstances that prevent you from attending, please talk with your supervisor and/or contact the Southern Rendezvous solutions team at southern@banksouthern.com.
If you simply choose not to attend Rendezvous, please keep in mind that we won't have the Columbus Day holiday available for 2022, and therefore you will need to use paid time off hours available for use, either personal or vacation pay.
If no personal or vacation time is available for use, the employee will go unpaid for this day.
Can I bring my spouse or other family members?
As this is a business meeting, spouses and family are not invited.
Do I need to register for this meeting even if I'm not going?
Yes, everyone needs to register whether you plan to attend or not – as we want to make sure we have accounted for all staff. Registration will end on May 16th.
How will transportation work?
We are working on a plan to make travel timely and hassle-free for everyone coming to the Southern Rendezvous. For most of you, there is no need to worry about travel reimbursement forms, extra expenses, or the wear and tear on your personal vehicle. We are providing Southern Bancorp sponsored buses and vans for everyone that is more than 30 minutes away from the event.
Those of you who are 30 min or less away from Little Rock will be asked to create a carpool. Carpool trips will be reimbursable. We encourage you to make a carpool of three or more staff members (you plus at least 2 others).
How will the Southern sponsored buses work?
Buses (or vans, depending on the size of the group) will be scheduled to pick up staff members at various locations in Mississippi and Arkansas on Sunday, October 9th.
Locations and routes will be determined after registration is completed.
How do I get reimbursed for travel?
Travel reimbursement will be done the typical way with the travel expense form. Typical restrictions and requirement apply. Please follow the Business, Travel and Entertainment Policies on the Policies Page.
Here is a quick guide to reimbursable travel:
No          Taking the bus! No need to fill out a travel reimbursement form. No worries!
Yes!       I'm carpooling to the event (preferably with at least four staff members per car)
Yes!       I'm carpooling to a bus pickup location. The travel while carpooling is reimbursable.
No          I've decided to opt out of the bus option and am driving myself
Can my spouse come on the Southern bus with me?
Sorry, spouses are not invited to ride on Southern sponsored transportation.
What if I LIVE and WORK in different towns?
Choose the travel option that is closest to your home.
For instance, if you work in Blytheville, but live in Trumann, it would be probably easiest for you to meet at the Trumann pickup point and take the bus. Choose what will be easiest for you.
Can I drive by myself instead of take the Southern bus?
Yes, you can drive yourself, however, in deciding to drive by yourself, you are opting out of the Southern provided transportation and are therefore responsible for your travel expenses.
What time will we be picked up? Where will we be picked up? What time will we get back?
All these questions are in the process of being answered. By registering, you are being put on an email list for further updates.
How will the lodging work? Do I have to share a room?
We have booked a block of rooms at the Doubletree (site of the event) as well as three other hotels nearby. Those choosing to have a roommate will be given priority for the Doubletree while others will be placed in a nearby hotel. We will have shuttles to and from the hotels, so no worries even if you're at one of the nearby locations.
Does Southern have an alcohol policy?
No. But, we do expect professional behavior as we are representing Southern!
What is the dress for Sunday and Monday?
Casual, like on Fridays. Blue jeans are fine. You are encouraged to bring your name tag.
Who do I contact if I have more questions?
For specific questions, please email southern@banksouthern.com and your question/answer will be added to the FAQ (on the intranet) for others to see as well!