By: Charlestien Harris
The back-to-school season has already begun for some students, and many stores are already selling backpacks, notebooks, and other school supplies. According to the National Retail Federation, families with school-age children are expected to spend an average of $864 on back-to-school shopping this year, which is up from $697 pre-pandemic in 2019.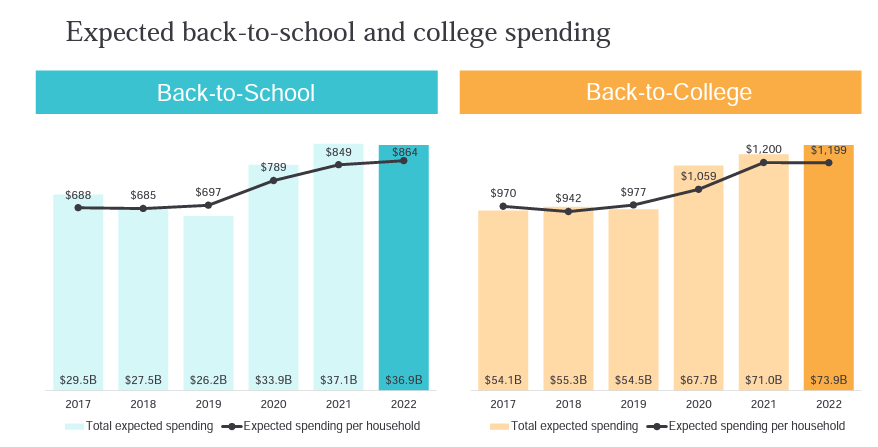 There are many reasons why stress seems to creep up in our day-to-day activities, and this time of year can be especially stressful because of all the requirements parents have to adhere to when preparing for a new school year. Even with all the ups and downs and chaos that can happen, peace can be found this season – with a little planning. Here are some suggestions that just might get you through the first ringing bell or the first bus ride, and at the same time reduce your stress level.
Delay some purchases.
Did you know that you don't have to buy every item on your child's supply list right now? Chances are they won't need or use all of those supplies at the beginning of the school year. There are some items on the list that can probably be purchased at a later date. You might want to ask their teacher which items will be needed right now and which ones can be purchased later on in the year.
Develop a spending plan.
Back to school time can be stressful if your budget is already stretched from dealing with the effects of the pandemic. Have you thought about setting up a back-to-school budget? Think about it: You budget for everything else, why not for this time of year as well? Setting a budget for back-to-school shopping before you go to stores can help you figure out how much you can spend for various items on the list and possibly reduce your stress level.
Shop for items that are on sale.
August is a great time to shop for electronics such as laptops, calculators, and tablets. These are high-ticket items that usually go on sale during this time, and if you do your homework, you just might snag a great deal. Clipping coupons and scanning the sales inserts for the best deals can also be a great way to save money.
Look for free community back-to-school events.
There are several ways you can make ends meet without breaking the bank, and some of these suggestions are free! Many local organizations are sponsoring back-to-school supply events that are free to the public. They offer a variety of free school supplies along with food, school uniforms, haircuts, and family-friendly activities. For more information about these events, you should check local newspapers, posted notices, social media outlets, church bulletins, and, of course, a favorite of mine – word of mouth.
Take stock of what you already have.
Take a look around your house. You may have purchased some supplies during the end of the year sales events from last year! While providing supplies for summer activities, you may have some leftovers that can be used during the regular school year. You might even check with your friends and do a supply swap. Different grade levels need different supplies, and there may be family and friends who you can trade with to complete your list – and help them complete theirs. You can also ask other parents in your social circle if they have hand-me-downs or unused supplies your child could use. Leftover supplies are sometimes thrown out, and could be an excellent opportunity to take advantage of, especially if it saves you money. Hand-me-downs really helped me with my kids when it came to saving money or staying within my school budget.
Buy in bulk with friends.
Consider the items you can buy in bulk and split these purchases among friends and neighbors. For example, you can shop at a warehouse store and get some of the supplies in a large, money-saving quantity. Things like antibacterial soap, hand tissues, and sanitizing wipes frequently show up on school supply lists. Parents whose children are in the same classes or schools can combine their resources when shopping to save both time and money.
These are just a few suggestions to help bring some calmness to an often stressful time of the year for many parents. Stress can most likely be avoided when we are ready for events that we know are coming and have prepared an organized plan to address our concerns.
Regardless of when the first day of school starts for your child, you should encounter enough sales promotions that will most likely prevent you from paying full retail price for anything. Just make sure you plan your purchases and try to stick to that plan for best results.
For more information on this and other financial topics, you can contact me at 662-624-5776, or email me at Charlestien.harris@southernpartners.org.
Until next week – stay financially fit!