Why Work at Southern Bancorp?
Click on the images below to learn more about why Southern Bancorp is a great organization to join wherever you are in your career. Working at Southern Bancorp provides an opportunity for you to do well by doing good in our communities.

What if a bank was more than a bank?
Southern Bancorp is a different kind of bank. Focusing on underserved communities, Southern Bancorp combines traditional banking and lending services with financial development tools and public policy advocacy to help families and communities grow stronger. Our mission is to be wealth builders for everyone in the communities we serve, regardless of where they are on their personal financial journey.
Community Development Financial Institution (CDFI)
Over 30 years ago, with an initial investment of approximately $10 million, and a mission to create economic opportunity, Southern Bancorp, Inc., along with its development partners – Southern Bancorp Bank and Southern Bancorp Community Partners was developed. Today we have grown to become one of the largest community development organizations in the United States, as well as a model for an entire industry of mission-focused financial institutions known as Community Development Financial Institutions or CDFIs. Today, Southern Bancorp is a $1.9 billion asset organization with over 65,000 customers and 51 branches located primarily in underserved markets in the Mid-South.
B-Corp
Southern Bancorp is the only Certified B Corporation in Arkansas and Mississippi. B-Corps balance purpose and profit and operate by considering the impact of their business decisions on their workers, customers, suppliers, community, and the environment. B-Corps represent a community of leaders, using business as a force for good in the communities they serve.
Global Alliance for Banking on Values
Southern Bancorp is a proud member of the Global Alliance for Banking on Values (GABV) – a network of banking leaders from around the world, dedicated to creating positive change in the banking industry. GABV members are a select group of 67 banks from 40 countries, with the goal of supporting economic, social and environmental sustainability through values-based banking.
Our Impact
Our customers' achievements are what keep us going. Check out our Southern Stories videos to learn more.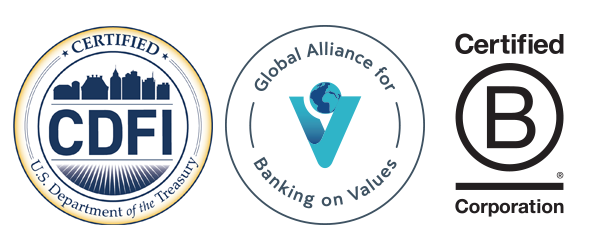 It is our mission to be wealth builders for EVERYONE and that includes our employees. We offer numerous financial benefits and services to help you and your family get on the path to economic opportunity.
That's why we offer a 1% home loan to Southern Bancorp employees. Kimberly Enoch and her daughter are two such recipients.
Full List of Benefits
Your Future
401(k)/Roth plan with immediate eligibility and employer match up to 6%
Employee stock ownership plan
1% employee home loan
Credit and housing counseling as well as free financial education tools available to customers and employees
Your Health
No deductible medical insurance plan
Dental and vision insurance
Employer paid life and long term disability insurance
Flexible Spending Accounts
Your Well Being
Paid holidays for full-time staff
Bonus plan for all full-time staff
Opportunity for merit raises
Employee reward and recognition programs
Community service opportunities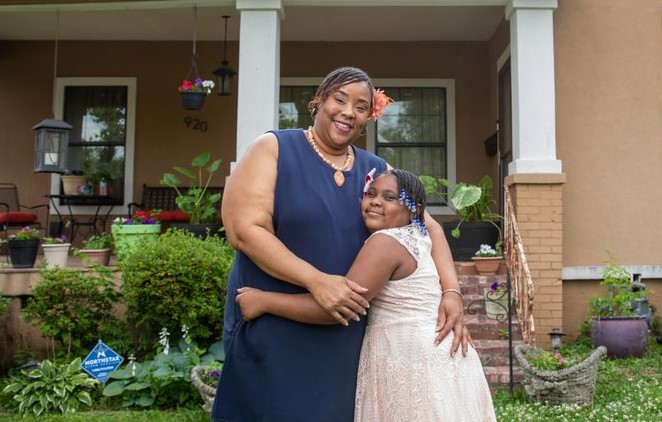 Employee Kimberly Enoch stands in front of her family home with her daughter Mackenzie Enoch-Noble. Kimberly used a Southern Bancorp 1% employee home loan to ensure her family home stays in the family.
A Focus on DE&I
Southern Bancorp was founded to have a focus on building wealth in communities of color, and to fulfill that mission, we want to ensure that our culture embraces, among other things, these ideals throughout our organization.
Our DE&I committee, representing all of our regions, positions, races and genders, ensures that our focus remains where it should be—being wealth builders for everyone—with emphasis on everyone.
R.A.I.S.E.
As a mission-driven organization, a strong culture is key to ensuring that our focus remains on being wealth builders for everyone. That's why we strive to instill our culture and our values-driven approach to banking at the forefront of everything we do.
The Southern Bancorp Team lives and works by the R.A.I.S.E. core values—Relationship, Accountability, Innovation, Sustainability, and Empowerment—and we recognize each other for going above and beyond to exemplify them.
As an institution dedicated to raising communities up, it's only fitting that Southern Bancorp's core values reflect that same spirit:  R.A.I.S.E.
Serving Our Communities
In addition to providing responsible and responsive financial products and services to people in our markets, Southern Bancorp employees devote significant time to serving the community. From volunteer events to volunteer income tax preparation to financial development services via our Opportunity Centers, Southern Bancorp employees are proving that wealth building can have a variety of definitions.


Southern Bancorp was named Best Place to Work by Arkansas Business.