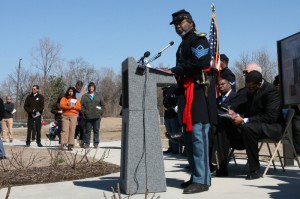 HELENA-WEST HELENA, Arkansas (Feb. 26, 2013) – A sunny winter afternoon attracted an audience of about 200 to the dedication of Freedom Park in Helena-West Helena on Saturday, Feb. 23. The park honors the courage and determination of Freedom Seekers – fugitive slaves who came to the Union Army-occupied city in July 1862 through the end of the Civil War in 1865.
The park, created through funding provided in part by the Delta Bridge Project of Phillips County, is the second major installment of Helena-West Helena's Civil War tourism development projects. It is the first location in Arkansas to be dedicated as a National Underground Railroad Network to Freedom site by the National Park Service.
The dedication, under the direction of master of ceremonies Charles McGhee of Entergy, opened with a solemn Presentation of Colors by the 13th United States Colored Troops of Murfreesboro, Tenn., along with an invocation by Rev. Cedric Pride of King Solomon Baptist Church and a welcome by Allen Martin representing Helena Mayor Arnell Willis.
"Remember why we're here – the life goes on, the blood goes on, the honor goes on," said Norman Hill, president of the uniformed 13th USCT.
Maria Brent, interpretive planner with Mudpuppy & Waterdog of Versailles, Ky., a consulting firm specializing in public history that helped plan the park, spoke about the exhibits – including a bronze statue by sculptor Roy W. Butler and steel sculptures of soldiers by Scot and Laura Kellersberger and Ben Bridwell. "Freedom Park, to me, is about courage, about people who risked everything to improve their lives and the lives of others," she told the audience.
"Around 2,000 Freedom Seekers came here and had nothing," she continued. "They found shelter with the help of the Union army. There were terrible living conditions, but they persevered and began a new life. Every step of the journey required sacrifice, and Freedom Park honors that sacrifice."
Brent was followed by Ronnie A. Nichols, artist and historian of Nichols Consulting of North Potomac, Md., and a former  director of the Delta Cultural Center, who spoke with authority on the cultural and political history of the Civil War in Helena.
The raising of a 35-star flag by the 13th USCT and the 33rd Missouri Infantry Rifle Squad of Fort Curtis, (a replica of a Union fort, part of the Civil War Helena development) and the singing of "Battle Hymn of the Republic" by Naya Washington of Helena concluded the dedication. Guests were then welcomed to nearby Estevan Hall, a 1820s-era residence that served as a Union hospital during the Civil War, for tours and refreshments.
Civil War Helena projects scheduled for completion in 2013 and 2014 include the restoration of Estevan Hall and improvements to Battery C, one of four Union battery sites that aided in the Union domination of the battle of Helena on July 4, 1863.
The state Department of Transportation recently approved a Scenic Byways grant to create a pedestrian trail to connect five Helena-West Helena Civil War sites, provide infrastructure improvements, by beautification, parking and walking trails.
Once completed, the Civil War Helena initiative is expected to bring more than 60,000 visitors each year to Phillips County and eventually create more than 40 tourism-related jobs. It is estimated that Civil War-related tourism could generate as much as $9 million annually in revenue for the area.
For more information visit civilwarhelena.com, or call Paula Oliver at the Delta Cultural Center at (800) 358-0972.