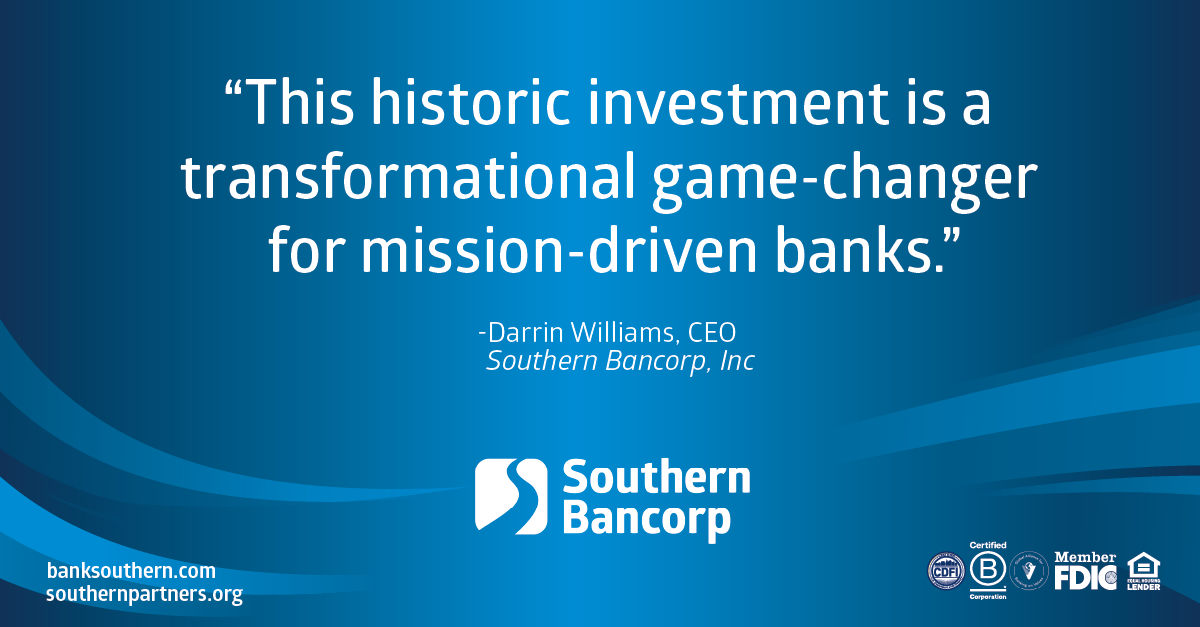 Washington, D.C. – Vice President Kamala Harris and United States Treasury Secretary Janet Yellen today announced that 186 Community Development Financial Institutions (CDFIs) and Minority Depository Institutions (MDIs) are now eligible to receive more than $8.7 billion in capital through the Emergency Capital Investment Program (ECIP). Southern Bancorp is eligible to receive a $237.5 million equity investment through the program.
"This historic investment is a transformational game-changer for mission-driven banks like Southern Bancorp," said Darrin Williams, Southern Bancorp, Inc. CEO. "We intend to put this capital to work by increasing our lending to small and minority-owned businesses and to low- and moderate-income customers in underserved communities. This investment will also allow us to reach deeper into the underserved communities in which we presently work, as well as expand our impact into new markets that can benefit from our unique blend of financial development services."
The investment is part of the federal government's response to the COVID-19 pandemic. Begun in 2020 and passed in early 2021, the ECIP was designed to provide direct funding to CDFIs and MDIs, as these types of financial institutions focus their efforts on increasing access to capital in traditionally underserved markets such as minority or rural communities. This investment into mission-driven financial institutions has the potential to be transformational for marginalized communities across the nation.
"A historic investment calls for a historic level of impact, and that's exactly what we intend to pursue," said Williams. "We were founded to be 'wealth builders for everyone,' and this investment will let us greatly expand on that mission." Click here to view the Treasury Department news release: https://home.treasury.gov/news/press-releases/jy0530